Review of "The Sunny Side of the Mountain" by Charliann Roberts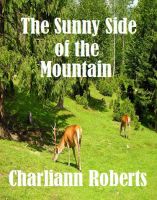 E-book edition
Published- January 2012 by Solstice Publishing
313 pages
After divorcing her emotionally abusive husband Cassandra tries to find solace at her aunt's cabin in the Northern Woods. She thinks she has finally found peace only to be confronted with a stalker. Will she escape her emotionally turbulent past and finally find happiness and true love? Well..read it and find out!
This book had a heroine I rooted for- I wanted,no hoped Cassandra would get away from her emotionally abusive husband and find love. I didn't feel as if I was reading the book I felt as if I were a part of the book. It had romance, suspense, and engaging characters. A must read.
Rating: 4 stars
Disclosure: I received a complimentary copy from the author in exchange for a review.
Buy it at-