Look! A Quilt Giveaway! OOH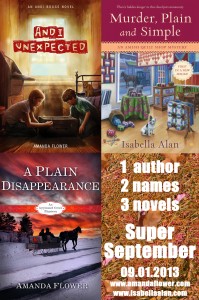 It's Super September! Woo Hoo! Novelist Amanda Flower and her alter ego Isabella Alan are releasing the novella
Plainly Murder
and the novels
Andi Unexpected
,
Murder, Plain, and Simple
, and
A Plain Disappearance
next month. So, to celebrate the releases she is holding a giveaway for an Amish quilt.
The quilt is 28 1/2 inches by 27 1/4 inches.
The quilt was purchased from Swiss Village Quilts in Sugar Creek, Ohio. It was hand-stitched by Amish living in Holmes County, Ohio. Contest details can be found here.
Find out more about Amanda/Isabella here:
So, what are you waiting for? Enter now for a chance to win the pretty, shiny quilt.